In June last year I wrote a blog post suggesting the Micro Four Thirds system could become the ultimate tilt-shift system as its lens to sensor distance is short enough that a tilt-shift lens adapter could theoretically be made which would convert any legacy 35mm lens into a tilt shift lens, and you would get the fastest manual focus capability thanks to the mirror less live view.
Now at last, a tilt adapter has been made available for MFT from Adriano Lolli – see here. The tilt can be rotated 360 degrees, and at zero tilt, focus at infinity is still possible.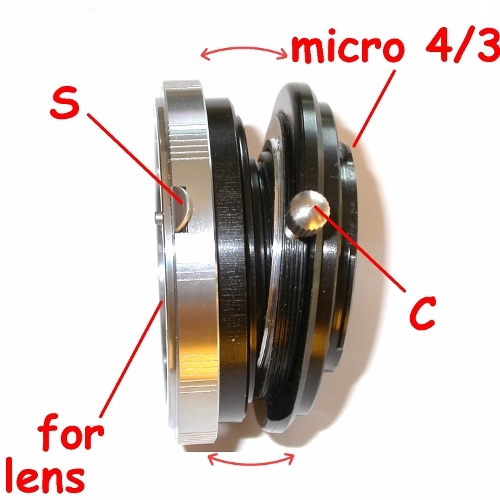 Forget your expensive Lens Baby lenses, or the extremely expensive Canon or Nikon tilt-shift lenses, if all you need is tilt and not shift, then this relatively inexpensive adapter will convert your existing legacy lenses into tilt lenses for you, and of course, if you have Olympus MFT cameras, you also have image stabilisation to boot!
This adapter should be one very popular adapter for macrophotography and creative work – it seems at present he has versions for Nikon, Contax-Yashica, Leica R, Contarex, and Olympus OM.
It would seem the adapter is not yet available but presumably one could order one?
Perhaps he has a shift adapter on the way as well?
He has a full catalogue here (pdf) – look for item #3107 – current price in 2010 is 136Euro.
I was notified of this adapter by one of my readers who knew I was interested in such things – his source was actually the 43rumors.com website so I add this note to give credit and to remind Four Thirds users of this excellent resource.
Some rumours posted on this site suggest to me:
Panasonic may create a new Four Thirds dSLR with a hybrid optical/electronic viewfinder system – perhaps EVF when mirror is up, and using their fast contrast detect AF algorithms found in their MFT cameras?
Olympus may announce a E-P3 in 1st half of 2010 with an in-built EVF – now that would be a very nice evolution of the E-P2!
new Panasonic sensor coming early 2010 with better high ISO noise and dynamic range – well that's pretty logical – they wouldn't do a Canon with their G10 and make it worse now would they?