Some people like optical viewfinders, and even the excellent electronic viewfinder (EVF) available for the Olympus E-P2 may not suit their needs.
Olympus have an optical viewfinder that fits in a hot shoe and was designed for the Olympus E-P1 with 17mm f/2.8 pancake lens, but it only has a fixed view – to match the 17mm lens.
An alternative is the type B Voigtlander 15-35 Multi Format Zoomfinder which allows setting for either the 2x crop of MFT cameras or the 1.3x crop of Leica M8 cameras and apparently costs $US529.
The zoom adjustment changes the field of view to match focal lengths from 15mm to 35mm – almost the coverage of the 3x zoom kit lens, and thus could come in handy particularly for those with an E-P1 which does not take an EVF.
It has a diopter adjustment to correct for your eyesight, and has a generous 15mm eye relief and a locking ring to ensure it doesn't fall off your hotshoe.
It is approximately half the size of the Leica 16-28 Universal Wide Angle Finder, and perhaps further adds to the retro look of the E-P1.
It has a 3:2 field of view so it does not exactly match the 4:3 field of view, but at least it is very versatile otherwise and may save you batteries in not having to always power on the camera to compose scenes.
It can be used on any camera with a hotshoe and replaces the need for individual optical viewfinders as shown below: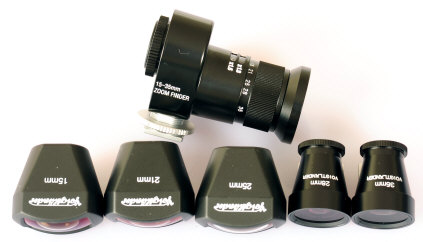 Other alternatives include the Helios Multifinder Mk2 which is a fixed focal length optical viewfinder but with frame lines for 35mm, 85mm and 135mm – nice for the panasonic 20mm f/1.7 lens on an Olympus E-P1 but no diopter adjustment. These are cheap (£30.00 from here) and may come in handy used as a walk around tool for composing scenes.