In my last post I compared the current Sony full frame mirrorless cameras with the Olympus OM-D cameras, and had to conclude that for most people, the Olympus OM-D's were probably the way to go given that each Sony camera had significant issues, not least the lack of lens selection.
But today, Sony has really upped the ante with their newly announced Sony a7R II NEX E-mount full frame mirrorless camera which hopefully addresses many of my concerns and in addition adds faster AF for Canon lenses plus internal 4K video!
Now that is pretty cool and Canon and Nikon should be worried – very worried indeed!
The specs beat their new Canon 5DS hands down assuming one is not going to quibble over 50mp vs 42mp, and beats the Nikon D810E dSLRs.
Sony now make 40% of all digital sensors and Canon is falling so far behind in the mirrorless and video race, it will take something special from them to pull back the lead.
Nikon use Sony sensors so potentially this sensor will find its way into their dSLRs, but neither Canon or Nikon have added sensor-based image stabilisation and this is a real issue for them, nor can they offer accurate, fast AF on a person's eye via Eye Detection AF, let alone 4K video functionality as is implemented on this camera.
This may be THE BEST camera for your Canon lenses (although you do need to buy a AF adapter such as a Metabones adapter) – as long as you don't need super fast AF for sports, etc.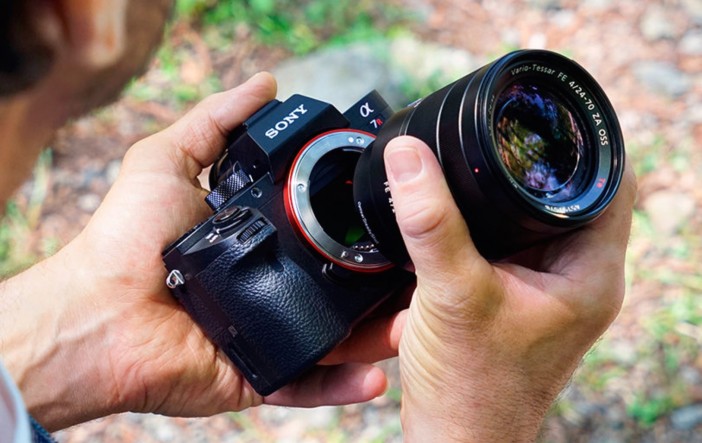 image courtesy of http://www.eoshd.com
Sony a7R II specs:
world 1st back illuminated full frame sensor for improved high ISO sensitivity and faster data processing (3.5x faster than the a7R)
42.4 megapixels gapless design with anti-reflection coating
ISO range 100-25600 (extended: 50, up to 102,400)
Fast Hybrid AF system
AF response time improved by 40% over the a7R
Eye-AF now allows C-AF tracking of closest eye with specific face preferenc via registration
fast, accurate C-AF at 5fps even with fast moving subjects
399 on-sensor phase detect AF sensor points covering 45% of the frame = 67% coverage in each direction (larger than dSLR AF coverage)
25 on-sensor contrast detect AF points
5fps burst rate for 22 frames
500,000 shot rated shutter – by far the best specs in the industry
50% less shutter vibration than in the a7R
electronic front curtain shutter to reduce shutter shake
shutter speeds 30sec – 1/8000th sec
flash sync 1/250th sec
metering to -3EV, exposure compensation -5 EV to +5 EV (in 1/3 or 1/2 EV steps)
no optical low pass filter for optimal sharpness and clarity (although this may cause some moire in videos – to be tested)
3″ tilting 1,228.8k dot LCD screen (tilting up 107° and down 41°) and uses WhiteMagic technology which doubles the brightness of the display but still not touch sensitive
4K video

internal UHD 4K 3840 x 2160p at 30/24 fps in XAVC S format at 100Mbps and 4:2:0 sampling at 8-bit
Super 35 without pixel binning or full frame read-out format
customisable picture profiles
S-Log2 Gamma – "squeezes up to 1300% more dynamic range into the video signal then traditional REC709, for increased post-production flexibility"
S-Gamut
time code – standard 'Record Run" mode that only advances the timecode when recording, as well as "Free Run" timecode that advances the timecode even when not recording
clean 4:2:2 uncompressed video HDMI output
sensor based IS – hopefully now better optimised for video – but will it compete with the Olympus OM-D E-M5 II's amazing IS in video?
3.5mm microphone input jack
compatible with the Sony XLR-K2M XLR Adapter for recording professional balanced XLR audio signals with phantom power and adjustable mic/line inputs
3.5mm headphone jack as well as real time audio levels for a visual reference

1080p video 60fps XAVC S7 codec at 50Mbps
720 120p slo-mo video
silent shooting mode
0.78x EVF magnification with 100% view coverage plus 4-lens system with double-sided aspherical elements for comfortable viewing and diopter – 4 to +3 m
magnesium alloy body with weathersealing
improved ergonomics – larger grip, re-shaped shutter button and moved forward
and taking a leaf from Olympus:

the same 5-axis image stabilization system found in the Sony a7 II – my dreams are coming true indeed!
the ability to assign any of 56 functions to any of the 10 customizable buttons for a more personalized setup
the Olympus mode dial locking system
Picture Effect modes: Posterization (Color, B&W), Pop Color, Retro Photo, Partial Color (R/G/B/Y), High Contrast Monochrome, Toy Camera, Soft High-Key, Soft Focus, HDR Painting, Rich-Tone Monochrome, Miniature, Watercolor, and Illustration.
Creative Style settings: Standard, Vivid, Neutral, Clear, Deep, Light, Portrait, Landscape, Sunset, Night Scene, Autumn Leaves, Black & White, and Sepia (all with +/- 3 step contrast, saturation, and sharpness adjustment).
Face Detection is available to base exposure and focus on up to eight recognized faces. Furthermore, Eye AF can be used for even greater precision by maintaining critical focus on a subject's eye – I do love this feature on my Olympus cameras
sensor dust reduction system as is now standard in most ILC's

sweep panorama
WiFi and NFC connectivity
PlayMemories Camera Apps are supported via the built-in Wi-Fi connection, and allow you to personalize the camera's features depending on specific shooting styles. Apps are available to suit creating portraits, detailed close-ups, sports, time lapse, motion shot, and other specific types of imagery.
battery: NP-FW50 Rechargeable Lithium-ion Battery Pack
optional AC-PW20 AC Adapter
5.0 x 3.8 x 2.4″ / 126.9 x 95.7 x 60.3 mm
22.05 oz / 625 g incl. battery, card
$US3200
availability said to be August 2015
What makes it a better camera for Canon and Nikon lenses than their dSLRs?
4K video
sensor based image stabiliser which works on all lenses – much reduced need for a tripod for portraits with the 135mm f/2.0L lens in low light
at least as good, if not better image quality – Sony sensors generally have better dynamic range than Canon ones and this sensor should not be an exception
far better manual focus functionality thanks to full time Live View with magnification and focus peaking – awesome when using tilt shift lenses – and they become image stabilised
more accurate portrait AF with Eye detection AF – although we will have to see if this works on non FE lenses
more accurate AF as uses focal plane PDAF sensors
no mirror so less camera shake and no need for clunky mirror lock up modes
can use the EVF in either stills or video mode and the video hopefully will have excellent sensor based image stabilisation and thereby allow better run and gun video work without need for heavy, expensive stabilisation rigs
PDAF covers more of the image frame
C-AF tracking still not quite as good as Nikon's 3D tracking but perhaps better than Canon's iTR distance priority tracking
WiFi control
Compared to Canon 5Ds R
Similar resolution, burst rate, shutter speed range,
| | | |
| --- | --- | --- |
| | Sony a7R II | Canon 5Ds R |
| Price at Amazon.com | $US3200 | $US3900 |
| ISO range | 100-25600 (expandable to 50-102,400) | 100-6400 (expandable to 50-12800) |
| Weight | 625g | 930g |
| Size | 126.9 x 95.7 x 60.3 mm | 152 x 116 x 76 mm |
| EVF | YES | NO |
| LCD screen | tilt screen | fixed |
| HD video | awesome image stabilisation 50Mbps 1080 50/60/24pp and 100Mbps 4K 30/24p, stereo mic, headphone port | 1080HD 30p/24p average implementation and quality, no EVF and thus must use LCD screen; mono mic; no headphone port, no uncompressed HDMI out |
| sensor based image stabilisation | 5-axis 4.5EV IS | No |
| Manual focus support in viewfinder | magnified view, focus peaking | AF confirm |
| AF in view finder mode | fast, accurate on sensor 399pt PDAF, 25pt CDAF, Eye detection AF | fast 61pt PDAF (5 double cross, 41 cross) requires microadjustment for each lens but proven for sports |
| AF lamp | Yes | No, need speedlight attached |
| flash sync | 1/250th sec but no PC port? | 1/200thsec |
| Radio TTL flash | No | Yes |
| Sweep panorama | Yes | No |
| silent electronic shutter | Yes | No? |
| shutter rating | 500,000 shots | 150,000 shots? |
| battery life | 290 shots | 700 shots |
| CF and SD memory card slot | No | Yes |
| USB 3.0 | No | Yes |
| WiFi and NFC | Yes | No |
What's missing?
LCD screen is not touch sensitive – this is very useful on Micro Four Thirds cameras, and I would miss it
radio remote TTL flash
lossless RAW files – current 14bit lossy RAW files do show some posterization – firmware update may address this
whilst PDAF is more accurate, PDAF capabilities in low light is not as good as on dSLR
PDAF initial AF lock not as fast as a dSLR when using very out of focus telephoto lenses
timelapse recording? – via PlayMemories App?
USB 3.0 (still only 2.0)
colour rendition may not be as good as peers – Olympus jpeg engine is renown for its colours
none of the nice Olympus long exposure and low light options:

timed shutter to 60secs
Live BULB
Live TIME
Live Composite
Live Boost I and II for better EVF viewing

of course, the dedicated lens selection is currently very limited, but at least now, it promises to give faster AF for Canon lenses
not compatible with TTL flash from other systems such as Olympus, Nikon or Canon – perhaps one day they will be universal remote TTL flash capability, but this seems a way off yet
Conclusion:
I still believe that the Olympus OM-D cameras are a better fit for MOST people who just need a high quality, light, compact, versatile weathersealed system.
But for the pros and enthusiasts who don't mind the extra size, weight and cost (~$US4000 for basic kit)  and are wanting high resolution, image stabilised full frame, or the serious videographers wanting high quality 4K video, then this camera is indeed a game changer given that it has all these capabilities without being absurdly expensive!
It also provides an option as a 2nd system to go along with your everyday Micro Four Thirds system, although an alternative to this role could be the newly announced Leica Q which is a 24mp full frame fixed lens camera with a superb 28mm f/1.7 lens and a very quiet leaf shutter which allows flash sync at 1/500th second – a great combo for street photography as well as shooting groups at weddings outdoors or indoors with flash fill in.
Finally, will it live up to the hype and the specs?
Formal testing and user experiences will be required to answer a few questions such as:
how good is the image quality from the sensor?
how fast is the AF with Sony FE lenses and with Canon EF lenses?
how good is the video quality?
how effective is the image stabiliser for video?
how good is the ergonomics and handling?
are there any gotchas yet to be revealed?
Time will tell if this camera is the gem it appears to be.