Nikon makes great dSLRs, and their Nikon D850 full frame dSLR which they announced today is likely to continue on that relatively matured path, but it is hardly revolutionary although for the Nikon die hards and pros it does have some nice improvements over its highly regarded predecessor, the Nikon D810.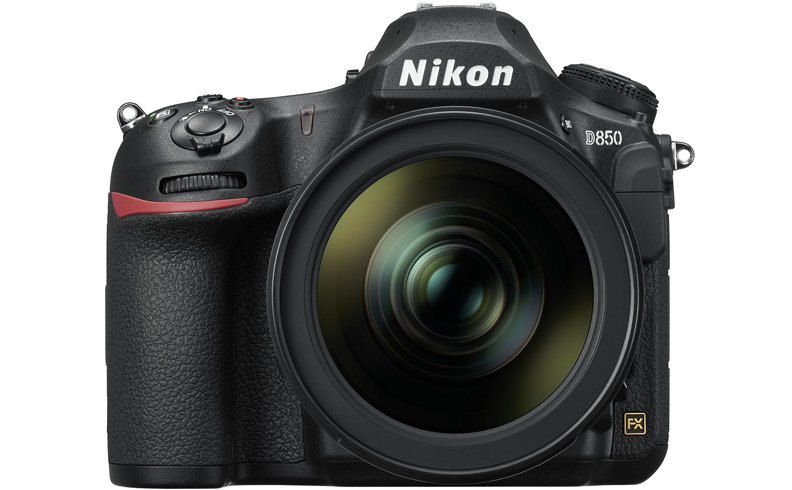 But in the speed stakes, it is not going to compete with the likes of a Sony a9 or Olympus OM-D E-M1 II (which is a totally different beast but far more affordable).
We are quickly running out of great reasons to pay a lot of money for full frame cameras these days, when most of their "advantages" have been addressed by smaller cameras, while the pros are looking for even larger sensor cameras to differentiate themselves from the droves of enthusiasts with full frame cameras.
There are still many who prefer an optical viewfinder over mirrorless, and for them, a big, clunky, noisy dSLR is the way to go.
The feature set that Nikon has given this does allow it to target a variety of uses – landscape and studio use with its high mp count, weddings with its full frame shallow DOF capability, and even sports with its excellent Nikon D5-like AF system although the 9fps bursts may be limiting and we are yet to see what the high ISO performance is really like, or its dynamic range for landscapes.
Major weaknesses appear to be it's extremely sub par WiFi functionality, limited electronic shutter capabilities, lack of built-in image stabilisation and perhaps its video capability – but this will need further assessment, although preliminary comments by a respected videographer can be seen on EOSHD.com who suggests it is much better than the Canon 5D Mark IV and looks quite good but still with many deficiencies compared to Sony, Panasonic and Olympus.
The RRP is slated to be $US3229, and it will be available next month.
What has Nikon improved over the Nikon D810?
more megapixels – 47.75 vs 36mp – most people won't be able to tell the difference in image detail, as substantive differences usually need a doubling of megapixels, and there are a lot more factors which limit the image detail you get – optical quality, camera shake, etc.

note that, like the D810, there is no anti-alias filter on the sensor – this promises more image detail but at a cost of more moire artefacts with textures if your lens can out-resolve the sensor – so may not be so great for fashion.

backside-illuminated CMOS sensor (BSI sensor) for hopefully lower noise and less vignetting, while ISO range is 32-102,400.
improved AF and metering system – similar AF and metering as the Nikon D5:

153-point AF system (up from 51pts with the D810), with 99 bring cross-type, including 15 central ones are sensitive to f/8, and with 30% more frame coverage than the D810  – but still no where near the coverage of a Sony a9 or E-M1 II which severely limits face AF and AF on subjects towards the edges.
 central AF point is rated as working in light as low as -4EV, with the rest still active at -3EV
D5's AF module, AF modes and dedicated AF processor
D5's 180,000-pixel metering system (up from 91,00-pixel in the D810) which works in concert with the AF system to give "3D tracking" and give much better subject tracking than with the D810
 automated system for setting an AF Fine Tune value ALTHOUGH it only calibrates the lens based on the central AF point and for a single distance, but better than nothing!

improved optical viewfinder

now gives 0.75x magnification (up from 0.70x in the D810) for brighter wider view
features a new condenser lens and an aspherical element in the design, and retains a reasonable (17mm) eye point
viewfinder shading when using different image aspect ratios to assist composition framing

improved burst rates and buffer capacity

can now shoot at 7fps (up from 5fps with the D810), and with the aid of the battery grip and EN-EL18b battery, up to 9fps (although this pales in comparison with the Sony a9 or Olympus E-M1 which can hit 15fps in mechanical shutter mode, or up to 60fps full output RAW in electronic mode)
buffer allows up to 51 frames of 14-bit lossless RAW capture / 170 frames of 12-bit lossless

can now choose various RAW files sizes:

45.4mp large, 25.6mp medium and 11.4mp small
20mp DX crop mode, so you can get some telephoto reach and no longer need a DX camera as well
in addition, can now batch process these in camera – not sure why a pro would do this, but it's there.

at last a tilting more usable touch screen and it is higher resolution

ah, yes, it has take Nikon a long time to catch up and it still doesn't swivel like the E-M1 II, but at least it's a step in the right direction, and some prefer a tilting to swiveling screen.
it is also much higher resolution at 2359k-dot compared with 1,229k-dot in the D810
unlike the D5 and D500, this touch sensitivity can be used in live view mode and for navigating menus, as well as for playback mode

support for radio TTL remote wireless flash with the optional SB-5000 Speedlight and WR-A10 and WR-R10 accessories, but these days, one has lots of options here such as cross-platform TTL flash with Cactus, or the Godox system allowing TTL with studio lights that works on most systems and is more affordable.
dual card slots – SD/SDHC/SDXC (UHS-II supported) + XQD
illuminated buttons to help in the dark
focus stacking up to 300 shots, but unlike Olympus, no built-in automated focus stacked output
more comfortable grip
improved battery capacity:

CIPA battery life rated at 1840 shots

improved video features:

4K UHD MPEG-4 H.264 MOV format at 24/25/30fps without cropping edges
1080 HD MPEG-4 H.264 MOV format up to 120fps for slo-mo
focus peaking (but not in 4K mode) and zebra stripes in video mode
8K / 4K time-lapse
uncompressed, broadcast quality 4:2:2 8-bit 4K UHD footage HDMI out
'Attenuator' mode for the camera's audio capture, that rolls-off any loud noises to avoid unpleasant clipping sounds
Power Aperture feature that allows the camera to open and close the lens iris smoothly when in live view mode
And, the usual features one expects in such a camera in 2017:
mechanical shutter speed to 1/8000th sec
100% optical viewfinder coverage
exposure compensation to ±5
flash sync presumably still 1/250th sec
weather sealing (better than the D810 thanks to no built-in flash) – albeit probably not as accomplished as the Olympus E-M1 II
self-timer
intervalometer
WiFi with smartphone remote control
Bluetooth
stereo mics + mic port + headphone port (mono only)
USB 3.0
orientation sensor
Face detect AF but not closest eye as with the Olympus E-M1 II, and only works in limited region where the AF pots are located
flash PC sync socket and hotshoe
medium weight at 1015 g (2.24 lb / 35.80 oz)
medium size 146 x 124 x 79 mm (5.75 x 4.88 x 3.11″)
must use rear LCD for Live View or Video modes (unlike mirrorless cameras which give the option of using the EVF or the screen)
What has not been addressed?
apparently, no 1st curtain electronic shutter in normal mode to reduce shutter shake – but how much of a problem will this be?
no built-in anti-moire system
electronic shutter silent mode only works in Live View mode and only to 6fps with AF/AE locked – no hybrid optical viewfinder yet, and no match for the Sony a9 or Olympus E-M1 II, and we need to see how the rolling shutter artefacts are controlled
no super short electronic shutter modes as with the Sony or Olympus
no built-in flash
no GPS
no Scene modes – but then this is aimed at pros who should not need a dummies guide
AF in Live View unlikely to match the speed of the Sony or the Olympus, no DualPixel AF as with Canon dSLRs
no built-in sensor based image stabilisation system – the Sony and Olympus have one which works on EVERY lens and can work in concert with proprietary lens based optical IS systems
unlike the Olympus, no awesome run and gun built-in IS for videos
no Log gamma options for high-end videographers, but does have the 'Flat' Picture Profile to squeeze a little extra dynamic range into its footage
quality of the video footage is yet to be assessed but it does seem to use pixel-binning which reduces details, and rolling shutter may be an issue.
the Snapbridge bluetooth tethering system is still used and has apparently not gained too many fans – let alone sending 46mp RAW files in this manner.
If the image quality is as good as they make it to be then this will be a great dSLR albeit with a few flaws.
It would seem that the image quality should be more than adequate for most purposes, the AF capabilities and 9fps burst rate adequate for most sports and wildlife situations, while the 20mp DX mode really negates the need for a DX/APS-C dSLR. Although not quite up to the D5 camera's 12fps and possibly high ISO performance for sports/action/wildlife capabilities, the 46mp does give a lot more versatility with post-processing cropping which a 20.8mp full frame D5 or a DX dSLR wouldn't give.
See Nikon's announcement here.