Be warned, this Metabones Speed Booster adapter is a very expensive, special niche item which will only suit some people with Micro Four Thirds cameras.
For someone like me who also has some great Canon pro lenses such as the 17mm tilt shift and the 135mm f/2.0, it becomes a very interesting proposition despite its price of $US599.
It will be of particular use to videographers who do not care much for autofocus anyway – see EOSHD first impresions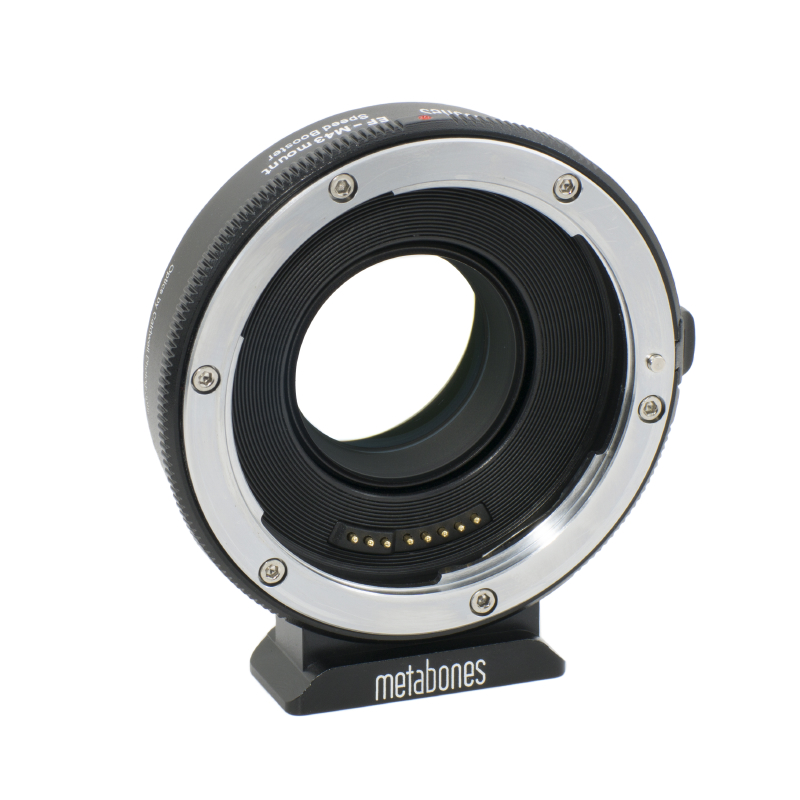 What can this adapter do?
it allows use of any Canon EF lens on your Micro Four Thirds camera with full aperture control, optical image stabilisation (if on the lens) and provides data for EXIF data store on the image
allows electronic manual focus – ie. turn focus ring and if camera and lens are set to do so, it will automatically activate magnified view mode
optional external 5V power supply
potential to also use other legacy lenses via adapters to Canon EF – but no aperture control, EXIF, OIS, and some lenses are NOT compatible due to rear projections potentially hitting the glass elements (eg. OM 50mm f/1.8 lens)
it does this with high optical quality 0.71x focal length reducing elements which:

reduces the 2x crop factor of Micro Four Thirds sensors to 1.4x crop factor – half way between APS-C (1.6x crop factor) and APS-H (the Canon 1D III/IV dSLRs which are 1.3x crops)
effectively allows 1 stop MORE light in, so your f/2.8 lens effectively becomes f/2
IMPROVES image quality, particularly for these full frame lenses which were mainly designed for film cameras – improved telecentricity, improved contrast, improved resolution
What can't this adapter do?
does not support Canon EF-S lenses
does not support autofocus
does not support dSLR focus confirmation – this is not supported on mirrorless cameras (eg. Dandelion chips on adapters for legacy manual focus lenses)
not compatible with some legacy lenses due to projecting rear mechanisms which may damage the glass elements
does not support in-camera lens corrections such as peripheral shading, CA and distortion
Examples:
Canon EF 135mm f/2 L becomes 96mm f/1.4 = 200mm f/2.8 in 35mm fov and dof terms
Canon TS-E 17mm f/4 tilt-shift becomes 12mm f/2.8 = 24mm f/5.6 tilt shift in 35mm fov and dof terms
Rokinon 85mm f/1.4 becomes 60mm f/1.0 = 120mm f/2 in 35mm fov and dof terms
Canon TS-E 90mm f/2.8 becomes 64mm f/2 = 128mm f/4 tilt shift in 35mm fov and dof terms
Olympus OM 100mm f/2.8 becomes 71mm f/2 = 140mm f/4 ⇒ no advantage over the mZD 75mm f/1.8 and I am not sure if it can be used without modifications
A final question though:
for Olympus camera users – does the adapter send the 0.71x adjusted focal length to the camera or the actual focal length – this may be very important as the in-camera image stabilisation system (IBIS) relies on the effective focal length data, and given the adapter is electronic, users will not be able to manual over-ride the focal length as they can do with legacy non-electronic adapters
thus will the Olympus IBIS be accurate when used with this adapter – or does Metabones need to do a firmware update to ensure this accuracy?
I have emailed Metabones and will post the answer as soon as I get it.