Olympus is celebrating 50yrs since they first introduced their unique interchangeable lens half-frame 35mm SLR system with a digital version, the soon to be announced (June 16th 2009) Olympus E-P1 Micro Four Thirds digital camera with interchangeable lenses.
A photo of the Pen FT with 38mm f/1.8 lens hosted on wikepedia:
A photo of the Pen system from cameraquest.com: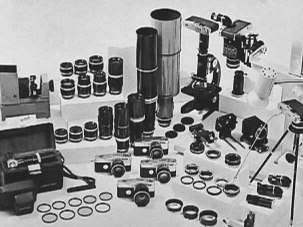 What was so good about the Olympus Pen half-frame SLRs?
In short, they were among the most pleasurable cameras to shoot and are ranked amongst the most favorite cameras of all time.
Leica users swallowed them up in droves (more than 17 million of the cameras were sold worldwide), because unlike the rangefinder design of the Leicas, the Pen cameras were of similar style but used a super compact mirror SLR design which allowed it not to look like a SLR as it did not have the characteristic pentaprism hump on the top.
The Pen cameras were beautifully designed with an exceptionally clean aesthetic design with a high quality finish and easy to use levers and dials.
The Pen also allowed flash sync all the way to 1/500th sec whereas all 35mm SLR cameras of the era only had flash sync to 1/60th sec.
BUT perhaps most importantly, the half-frame film size (18x24mm with 1.4x crop factor compared to 35mm diagonal) meant that Olympus could design Leica-like compact, sharp, manual focus lenses with minimal aberrations as they could get away with a much smaller image circle – as with Super 35mm moving picture format (the PL lenses) and much the same as with Four Thirds and Micro Four Thirds digital cameras.
The short lens flange to film distance has meant that these Pen lenses could only be used on the Pen cameras – until now – adapters will be made soon which will allow them to be used on any Micro Four Thirds digital camera – so it is not surprising that Olympus has returned to its wonderful designs in producing its first Micro Four Thirds digital camera – the E-P1 – although it will not have a mirror-based optical viewfinder but an LCD screen and optional EVF/optical viewfinders to sit in the hotshoe.
Furthermore, because of the short lens flange to film distance, as with Micro Four Thirds, lens adapters were made for the Olympus Pen series for a range of lenses including Nikon, Canon, Exacta, and pentax screw mount lenses and Olympus OM lenses – making this method, the ONLY way to get 1/500th sec flash sync with these lenses. An adapter was also made for Leica 39mm but this did not allow focus at infinity.
Interestingly, being half a 35mm frame, the frame was oriented vertically so all your images were in portrait orientation and you needed to rotate the camera for a landscape orientation – obviously, this is NOT the case with the Micro Four Thirds cameras at present.
The Pen lenses included:
wide angle lenses:

20mm f/3.5
25mm f/4
25mm f/2.8

normal lenses:

38mm f/1.8
40mm f/1.4
42mm f/1.2
38mm f/2.8 pancake style
38mm f/3.5 macro

portrait lenses:

60mm f/1.5
70mm f/2
100mm f/3.5

zoom lenses:

50-90mm f/3.5
100-200mm f/5

telephoto lenses:

150mm f/4
250mm f/5
400mm f/6.3 mirror
800mm f/8 mirror

More information on the Pen series:
The E-P1 will be about the same size as the very popular Canon G10 BUT the E-P1 sensor will be 5x larger meaning much better image quality, shallower depth of field and the EP-1 allows almost any lens to be used on it – to me, E-P1 and its successors will be THE jacket pocketable high image quality digital camera.
And some images of the soon to be announced Olympus E-P1 MFT digital (taken from a Canon users forum – they were impressed!):