Still waiting on my Panasonic Four Thirds to Micro Four Thirds adapter, but I do have a Canon EOS to MFT adapter, and an Olympus OM to Canon EOS adapter, so I thought I would post a few pics of the various combinations – actual photos taken with the combos will come soon.
The Micro Four Thirds system is the ONLY system other than Canon EOS which can use Canon EOS lenses, although as there is no aperture control on these lenses you can only use them at wide open aperture, and in manual focus at 2x crop.
The Four Thirds system would require a 5.5mm adapter to allow infinity focus with Canon EOS and such a thin adapter is not able to be made, so for the time being, you can only get Micro Four Thirds adapters to allow EOS lenses.
A cool example, is using the brilliant new, and very expensive, Canon 17mm TS-E tilt-shift lens. This lens obviously is 17mm on a full frame dSLR, and becomes 22mm on my Canon 1DMIII, but having the GH-1, adds to its versatility by allowing it to be used as a 34mm tilt shift lens and with HD video capability.
The Canon EOS 90mm f/2.8 TS-E tilt shift lens becomes 180mm focal length field of view and has potential uses for portraiture and macro work where one wishes to selectively focus on a subject by tilting the focal plane and giving nice bokeh.
The LensBaby Composer with its movable central sharp region surrounded by blur in EOS mount works very nicely indeed and allows you to simplify your videos by blurring out unwanted distractions.
Now, the nice compact Olympus OM prime lenses such as the OM 21mm f/3.5 which becomes a nice 42mm street photography lens.
I won't bore you with the other nice OM options such as OM 50mm f/3.5 macro, OM 100mm f/2.8, OM 200mm f/4, but just for fun, here is the GH-1 with the Olympus OM 300mm f/4.5. Now, this becomes a 600mm field of view and should give good results at f/5.6. BUT, in addition, you can use 2x digital zoom in HD video mode to give 1200mm field of view – you might be wanting a tripod for this focal length reach though!
While it may be most efficient to have just a EOS to MFT and a FT to MFT adapter, then use adapters for other systems which mate with EOS or FT, a more stable method is to just use one adapter in the train, and new adapters are appearing all the time for Micro Four Thirds such as Leica M, and just recently, Cosina have announced Nikon F and Pentax K adapters.
The Micro Four Thirds system is THE MOST ADAPTABLE digital camera system available because of its short lens flange to sensor distance – its just so versatile, and with the absence of the mirror, we should be getting a range of bodies with different designs and functions – I would love a silent electronic shutter version, and an infrared-enabled version in addition to the cool retro design of the Olympus E-P1.
John Foster has posted his tests of Olympus OM lenses on the Olympus E-P1 here – these should be similar to results on the GH-1.
If you want to see more images of MFT cameras using rangefinder lenses, see here.
For example, Panasonic G1 with M42 adapter, macro bellows, and Pentax Super-Multi-Coated Macro-Takumar 50/4: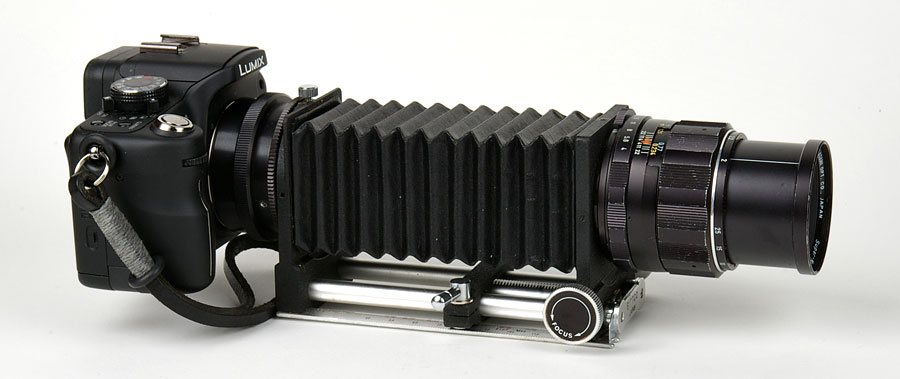 This is one exciting system, I can't wait until we get some more HD lenses, or at least a contrast-detect 50mm f/2.0 macro lens for nice portraits with AF.

Oh, and did I mention how much FUN this system is?